Emails from the website
You may have noticed emails coming to you when new news is posted on the new website. This is by design so that you don't have to log in to stay up to date on what's happening. The first email (last week) included all the posts that we moved over from the old website, but, moving forward, you should only see news that is new since the last time the message was sent. Currently, messages are set to be sent at 6pm AST each day, if there is new news to share. If there is no new news, no email will be sent.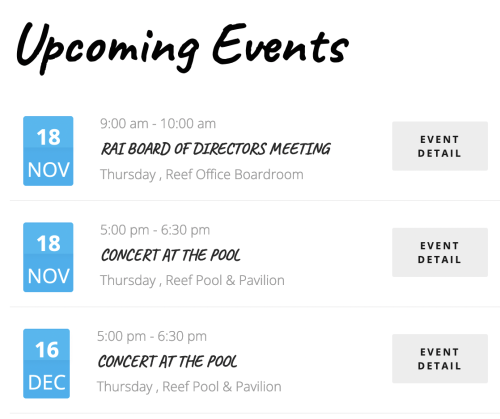 Calendar of Events
There is now a calendar of events that will show upcoming events on the Owner's Page. If you have an event you would like posted (such as the Concerts at the Pool Lon scheduled today!), feel free to send them to Matt at [email protected].
Owner Profiles on Website
The profile page that feeds the online Owners Directory will be changed a bit in the next week, or so. Currently, the profile only allows for a single name, email and phone number for each login. Some owners only want a single login to the website, but would like their spouse / co-owner to be included in the directory information. Be on the lookout for information in the near future on updating your profile, if this is important to you.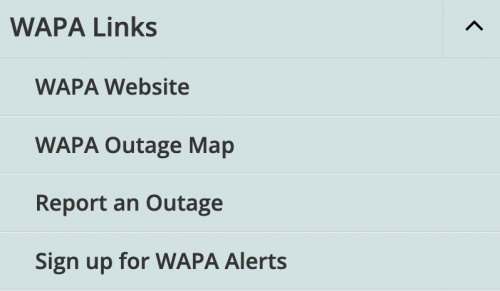 WAPA Links
If you can never remember where to go to report an outage, see if there's a wide spread outage, or even sign up to get alerts from WAPA when something notable happens, there's a menu for that.
On the Owner's Page, look to the green accordion menu on the right under WAPA Links.