I wanted to send a special thanks out to Helen Engelhardt of Villa 130. Helen recently donated the funds to purchase two new benches for everyone's relaxation and enjoyment, and also dedicated them in memory of two dear friends of hers.
One is located above hole #3 on the golf course (just below Maggie Hill Road about half way up the hill to Section 1) and it faces the west overlooking most of the property.  A really beautiful view!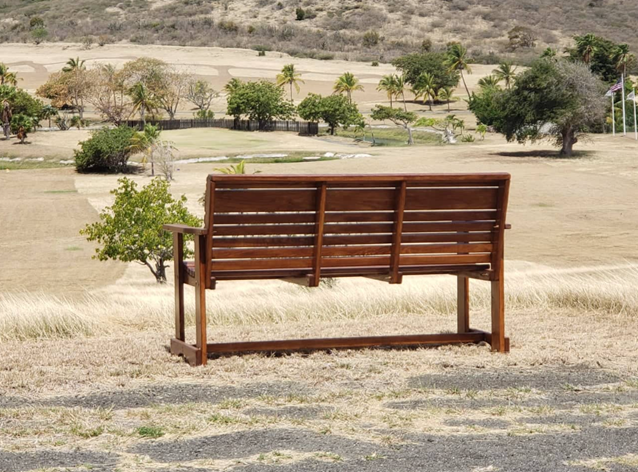 The second bench overlooks the salt pond behind the RO building.  Perfect for bird and iguana watching!
The Stories Behind the Benches
Per Helen Engelhardt
Both women visited me after I became the delighted owner of Villa # 130 at The Reef. Barbara Haskel, a friend from Junior High School days in Brooklyn, N.Y. had become a Professor of Political Science at McGill University in Montreal, and really appreciated the warmth of a winter vacation on St. Croix. She loved to join me for a morning swim at our beach, but the return walk was somewhat too long and too steep for her to manage without stopping to pause and catch her breath. I thought that placing a bench under the shade of some trees, would be appreciated by other folks as well.
Annette Henkin Landau was a friend whom I met in the 1980s at an annual summer gathering for women writers. She was a marvelous short story writer and a keen observer and lover of wildlife. This past winter I began walking down the road past the RO plant to get to the new access that Jason opened up for us to enjoy the beach east of Duggan's. I discovered the fascinating pond with egrets and other birds hunting in the water, and iguanas sunning themselves on those eerie dead trees. There's another special destination on that road: the newly restored nursery.